What I do: Make a word or phrase picture for you using my photos of 'found letters' in Nottingham, then email to you the digital image which you can print and frame.

A 10" x 8" print costs about £3 to print at Boots or eleswhere. There are online services too. Why not get a large canvas print? You can order panoramic ones online that are ideal for single words. These are good quality images that will print well up to poster size.

I make no money from this at all.
This canvas print, 12"x36" cost about £25 delivered: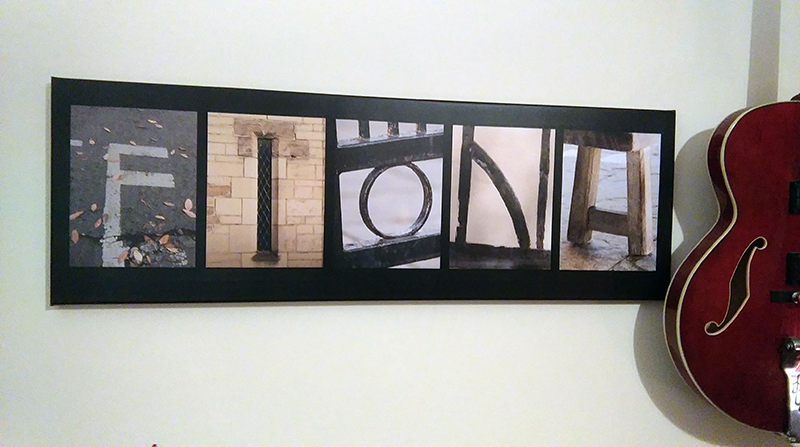 What you do: Donate to Maggie's who help cancer patients, using JustGiving (don't give money to me).
You can donate anonymously. Please don't give away your digital image to someone else who happens to have the same name or want the same phrase (technically, I retain copyright, and I forbid you from sharing it).
Pay whatever you think it is worth. Can I suggest a £10 minimum per picture? If you give £10, then print and frame it, you have got a good quality and completely original gift for someone for about £20 to £30. Why not give £20.
This is meant for personal use. If you want one for a commercial purpose, contact me and we can negotiate a higher donation.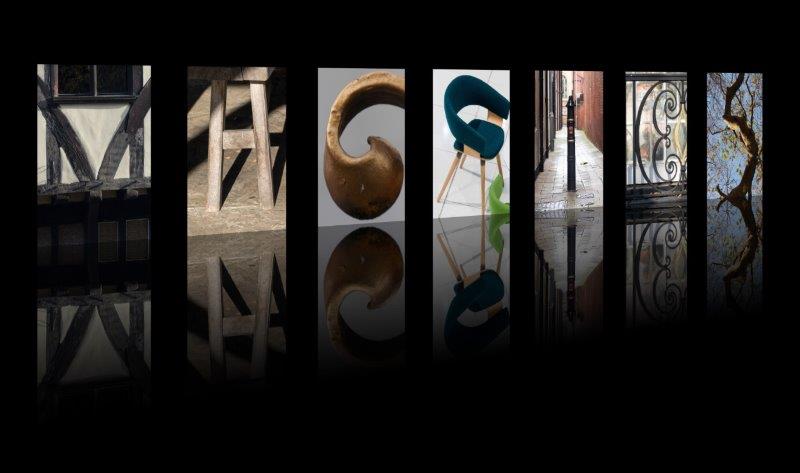 Of course you will want to wait until you have your picture before you donate, which is fine. Just don't forget. I'll do them as quickly as I can. Typically I will do them within a day or two, and email the image to you.

These three 10"x8" images were £6 each. Printing was £3, and the frames were £3 each from a large supermarket.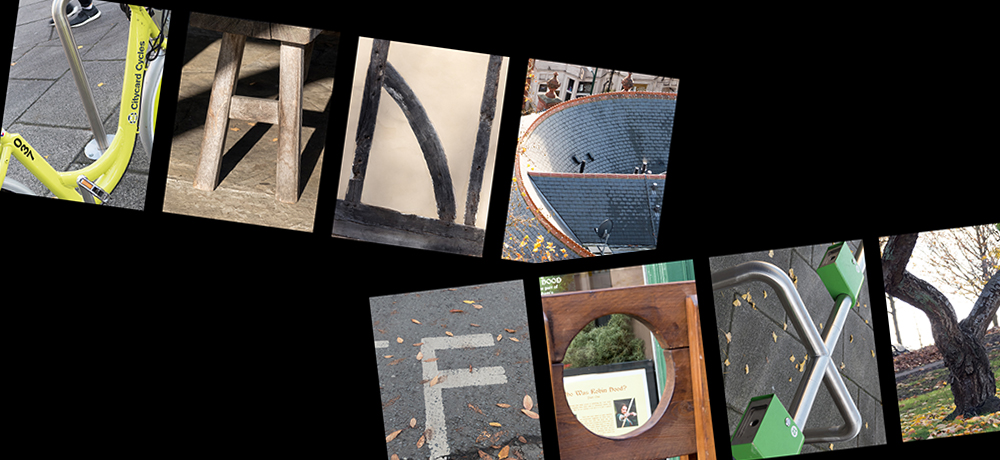 Ideas (but you can think of more original and unique ideas, can't you?):
Jason's Room
I love music
Trams forever
Frank lives to cook
Becky loves gardening

Grandad Joe is tops
Home Sweet Home
Will You Marry Me
Live For Today
Merry Christmas
My name, in situ at work.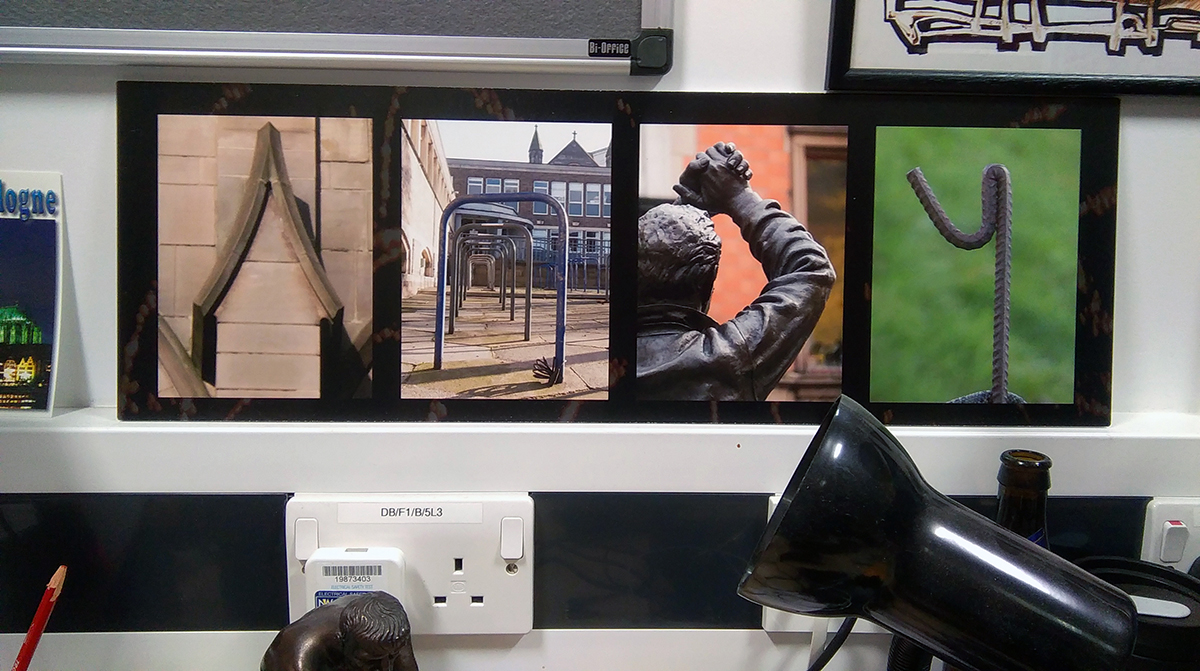 | | |
| --- | --- |
| | |
| | |
| | |
| | Black and white - reflections - colour variations - there are all sorts of ways to make your image more interesting, or to make a long shape into a more standard rectangle. Let me know if you would like special effects, or repeats of your words, etc. Think about increasing your donation ... |
| | |
Some online businesses that do printing on paper, board, canvas etc
I haven't researched this very hard, please let me know if you find better ones:
My-Picture A good range of products, prices seem reasonable
Jessops Slightly more expensive, but can do some products in store, and deliver to your local store for free
Boots Not such a good range, but instore you can use their machines to edit etc and do instant prints of some sizes
Ready to order? I need details about you, and what you want. You first:
Gallery - your images will not have the "© Andy Sutton" watermark! Use the A-Z links to jump around the letters.
A

A B C D E F G H I J K L M N O P Q R S T U V W X Y Z Letter list box Top of page


A01


A02

A03

A04

A05

A06


A07


A08

A09

A10

A11

A12


A13


A14

A15

A16

A17


B
A B C D E F G H I J K L M N O P Q R S T U V W X Y Z Letter list box Top of page


B01


B02

B03

B04
C
A B C D E F G H I J K L M N O P Q R S T U V W X Y Z Letter list box Top of page


C01


C02

C03

C04

C05

C06


C07

D
A B C D E F G H I J K L M N O P Q R S T U V W X Y Z Letter list box Top of page


D01


D02

D03
E
A B C D E F G H I J K L M N O P Q R S T U V W X Y Z Letter list box Top of page


E01


E02

E03

E04

E05

E06


E07

F
A B C D E F G H I J K L M N O P Q R S T U V W X Y Z Letter list box Top of page


F01


F02

F03
G
A B C D E F G H I J K L M N O P Q R S T U V W X Y Z Letter list box Top of page


G01


G02

G03

G04

G05
H
A B C D E F G H I J K L M N O P Q R S T U V W X Y Z Letter list box Top of page


H01


H02

H03

H04

H05

H06
I
A B C D E F G H I J K L M N O P Q R S T U V W X Y Z Letter list box Top of page


I01


I02

I03

I04

I05

I06
J
A B C D E F G H I J K L M N O P Q R S T U V W X Y Z Letter list box Top of page


J01


J02

J03

J04

J05
K
A B C D E F G H I J K L M N O P Q R S T U V W X Y Z Letter list box Top of page


K01


K02

K03

K04

K06

K07
L
A B C D E F G H I J K L M N O P Q R S T U V W X Y Z Letter list box Top of page


L01


L02

L03

L04
M
A B C D E F G H I J K L M N O P Q R S T U V W X Y Z Letter list box Top of page


M01


M02

M03

M04

M05

M06
N
A B C D E F G H I J K L M N O P Q R S T U V W X Y Z Letter list box Top of page


N01


N02

N03

N04

N05

N06


N07

O
A B C D E F G H I J K L M N O P Q R S T U V W X Y Z Letter list box Top of page


O01


O02

O03

O04

O05

O06


O07


O08

O09

O10

O11

O12
P
A B C D E F G H I J K L M N O P Q R S T U V W X Y Z Letter list box Top of page


P01


P02

P03

P04

P05
Q
A B C D E F G H I J K L M N O P Q R S T U V W X Y Z Letter list box Top of page


Q01


Q02
R
A B C D E F G H I J K L M N O P Q R S T U V W X Y Z Letter list box Top of page


R01


R02

R03

R04

R05

R06
S
A B C D E F G H I J K L M N O P Q R S T U V W X Y Z Letter list box Top of page


S01


S02

S03

S04

S05

S06


S07


S08

S09

S10

S11

S12
T
A B C D E F G H I J K L M N O P Q R S T U V W X Y Z Letter list box Top of page


T01


T02

T03

T04

T05
U
A B C D E F G H I J K L M N O P Q R S T U V W X Y Z Letter list box Top of page


U01


U02

U03

U04

U05
V
A B C D E F G H I J K L M N O P Q R S T U V W X Y Z Letter list box Top of page


V01


V02

V03

V04

V05

V06


V07


V08

V09
W
A B C D E F G H I J K L M N O P Q R S T U V W X Y Z Letter list box Top of page


W01


W02
X
A B C D E F G H I J K L M N O P Q R S T U V W X Y Z Letter list box Top of page


X01


X02

X03

X04

X05

X06


X07

Y
A B C D E F G H I J K L M N O P Q R S T U V W X Y Z Letter list box Top of page


Y01


Y02

Y03

Y04

Y05
Z
A B C D E F G H I J K L M N O P Q R S T U V W X Y Z Letter list box Top of page


Z01


Z02